Dead Burned Magnesite - Chinese Origin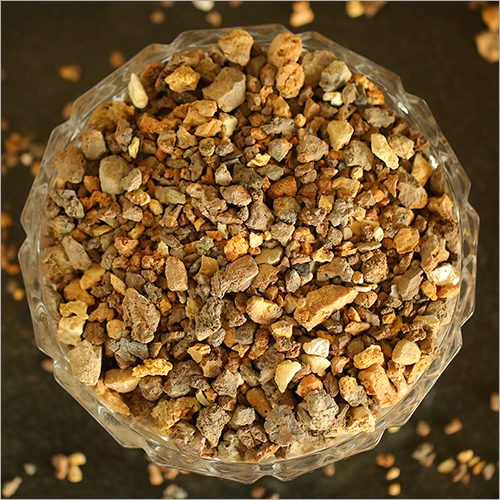 Dead Burned Magnesite - Chinese Origin
Price And Quantity
Ton/Tons

27 MT from Port or 5 MT from Salem.
Product Specifications
Product Description
In China,Dead Burnt Magnesite (DBM) is burned in Annular Vertical Shaft Kiln, which are high temperature processing Units, where Magnesite Ore is sintered at a controlled temperature between 1700-1750. DBM is chemically inert and extremely heat resistant.

Dead Burnt Magnesite is used almost exclusively for refractory applications such as wide range of Magnesia Bricks and Granular Refractories also known as Monolithic Refractories. Dead Burnt Magnesite has the highest melting point of all commonre fractory oxides and is the most suitable heat containment material for high temperature processes in Iron and Steel industry.

We can offer Tailor Made Dead Burnt Magnesite Grades as per their clients requirement with variety of chemical properties, physical properties and various sizes. The Product can be available at our Salem based Warehouses and also from Sea Portnearest to you on CIF terms directly from our Chinese Company or Custom Cleared Duty Paid material from Port or Delivered at your Plant under GST Invoicing from our Indian Company.
Specification
Chinese Dead Burnt Magnesite
TYPICAL CHEMICAL ANALYSIS

Grades

MgO

SiO2

Fe2O3

CaO

Al2O3

LOI

BD (g/cm3)

DBM 90 (H)

90%

4.50%

1.50%

2%

0.80%

0.50%

3.1

DBM 90 (D)

90%

4.50%

1.80%

3%

1.50%

0.70%

3.05-3.1

DBM 92 (B)

92%

4%

1.80%

1.80%

0.40%

0.50%

3.10%

DBM 92 (M)

92%

3.80%

1.50%

1.80%

0.40%

0.30%

3.15

DBM 95

95%

2.10%

80.00%

1.40%

0.30%

20.00%

3.2
Coarse Sizes

1-15 mm, 3-15 mm, 5-15 mm, 3-8 mm, 5-10 mm (High Bulk Density Fractions)

Small Fractions

0-1 mm,0.5-1 mm, 1-3 mm, 1-5 mm, #200 mesh (Low Bulk Density Fractions)

Packing

1.35 MT Big Bags or 50 kg Bags into 1.25 MT Big Bags

Colour

Brown

Origin

China
DEAD BURNT MAGNESITE FROM KONYAKROM, TURKEY
TYPICAL CHEMICAL ANALYSIS

Grades

MgO

SiO2

Fe2O3

CaO

Al2O3

LOI

BD (g/cm3)

KSKM 85

85.0%

11.0%

0.5%

3.0%

0.5%

0.2%

3.25

KSKM 87

87.0%

9.5%

0.5%

3.0%

0.5%

0.2%

3.25

KSKM 90

90%

6.0%

0.5%

3.0%

0.5%

0.2%

3.3

KSKM 91

91.0%

5.0%

0.5%

3.0%

0.5%

0.2%

3.3

KSKM 92

92.0%

4.5%

0.5%

3.0%

0.5%

0.2%

3.3

KSKM 93

93.0%

5.0%

0.5%

2.0%

0.5%

0.2%

3.35

KSKM 93.5

93.5%

4.0%

0.5%

2.5%

0.5%

0.2%

3.4

KSKM 95

95%

1.5%

0.5%

2%

0.2%

0.2%

3.4

KSKM 96

96%

1%

0.5%

1.8%

0.2%

0.2%

3.4

KSKM 96.5

96.5%

0.8%

0.5%

1.7%

0.2%

0.2%

3.45
Fraction Size

0-15 mm Standard Size for all Grades

Small Fractions

0-1 mm, 1-3 mm, 3-5 mm, 1-5 mm, #200 mesh

Packing

1.35 MT Big Bags

Colour

Yellow to White

Origin

Turkey
Indian Dead Burnt Magnesite
| | | | | | | | |
| --- | --- | --- | --- | --- | --- | --- | --- |
| Grades | MgO(Min) % | CaO(Max) % | Al2O3(Max) % | Fe2O3(Max) % | SiO2(Max) % | LOI(Max) % | Bulk Density |
| I | 90.00 | 1.50 | 0.50 | 1.00 | 6.50 | 0.50 | 3.4 |
| II | 89.00 | 1.50 | 0.50 | 1.00 | 7.50 | 0.50 | 3.4 |
| III | 88.00 | 1.50 | 0.50 | 1.00 | 8.50 | 0.50 | 3.4 |
| IV | 87.00 | 1.50 | 0.50 | 1.00 | 9.50 | 0.50 | 3.3 |
| V | 86.00 | 1.75 | 0.75 | 1.50 | 11.00 | 0.50 | 3.25 |
Coarse Sizes

0-15 mm, #44 mesh, #100 mesh, #200 mesh, #325 mesh

Packing

25 or 50 kg HDPE or Paper Bags & Big Bags

Colour

Yellow to White

Origin

India
Trade Information
Yes

Contact us for information regarding our sample policy
Africa, Middle East, Western Europe, Eastern Europe, South America, North America, Central America, Australia, Asia

All India
Contact Us
1st Floor, NM Arcade, Opp. ARRS Multiplex, Meyyanur Road,, Salem, Tamil Nadu, 636009, India
Phone :+918045475424