Dead Burnt Magnesite - Turkey Origin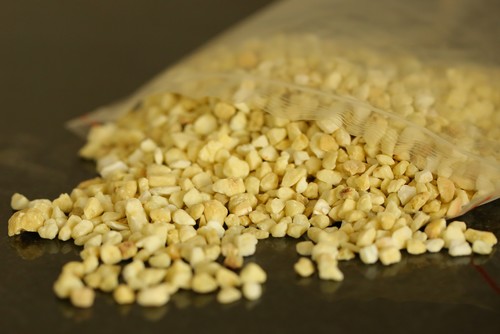 Dead Burnt Magnesite - Turkey Origin
Price And Quantity
Product Specifications
Product Description
Dead Burnt Magnesite (DBM) is manufacturer by sintering Cryp to Crystalline Magnesite Ore in Rotary Kiln at a controlled temperature between 1750-1800 Degree Centigrade. Turkish Dead Burnt Magnesite is chemically inert and extremely heat resistant. Turkish DBM has unique characteristics of low Iron content below 0.3%, which makes it most ideal Raw Material for Induction Furnace Ramming Mass.
Industrial Minerals & Refractories holds exclusive agency of M/s Konyakrom,Turkey which is Turkeys most reputed Dead Burnt Magnesite manufacturer located in Konya,Turkey. Konya region hosts Turkeys purest Magnesite Deposits with low Iron content unlike Kutahya Deposits, which imparts white texture to DBM just like high grades (ie.MgO 90% and above) of Indian Dead Burnt Magnesite. Konyakrom do not demand long term contracts unlike other Turkey suppliers, which gives flexibility to buyer to decide his procurement planning as per their choice to avoid excess inventory and procure only when they want and need.
Konya krom Dead Burnt Magnesite can be booked directly to buyer from Konyakrom or can also be available from our Salem Warehouses or under Delivery Duty Paid basis under GST Billing from nearest Sea Port to you.
Specification
Chinese Dead Burnt Magnesite
TYPICAL CHEMICAL ANALYSIS

Grades

MgO

SiO2

Fe2O3

CaO

Al2O3

LOI

BD (g/cm3)

DBM 90 (H)

90%

4.50%

1.50%

2%

0.80%

0.50%

3.1

DBM 90 (D)

90%

4.50%

1.80%

3%

1.50%

0.70%

3.05-3.1

DBM 92 (B)

92%

4%

1.80%

1.80%

0.40%

0.50%

3.10%

DBM 92 (M)

92%

3.80%

1.50%

1.80%

0.40%

0.30%

3.15

DBM 95

95%

2.10%

80.00%

1.40%

0.30%

20.00%

3.2
Coarse Sizes

1-15 mm, 3-15 mm, 5-15 mm, 3-8 mm, 5-10 mm (High Bulk Density Fractions)

Small Fractions

0-1 mm,0.5-1 mm, 1-3 mm, 1-5 mm, #200 mesh (Low Bulk Density Fractions)

Packing

1.35 MT Big Bags or 50 kg Bags into 1.25 MT Big Bags

Colour

Brown

Origin

China
DEAD BURNT MAGNESITE FROM KONYAKROM, TURKEY
TYPICAL CHEMICAL ANALYSIS

Grades

MgO

SiO2

Fe2O3

CaO

Al2O3

LOI

BD (g/cm3)

KSKM 85

85.0%

11.0%

0.5%

3.0%

0.5%

0.2%

3.25

KSKM 87

87.0%

9.5%

0.5%

3.0%

0.5%

0.2%

3.25

KSKM 90

90%

6.0%

0.5%

3.0%

0.5%

0.2%

3.3

KSKM 91

91.0%

5.0%

0.5%

3.0%

0.5%

0.2%

3.3

KSKM 92

92.0%

4.5%

0.5%

3.0%

0.5%

0.2%

3.3

KSKM 93

93.0%

5.0%

0.5%

2.0%

0.5%

0.2%

3.35

KSKM 93.5

93.5%

4.0%

0.5%

2.5%

0.5%

0.2%

3.4

KSKM 95

95%

1.5%

0.5%

2%

0.2%

0.2%

3.4

KSKM 96

96%

1%

0.5%

1.8%

0.2%

0.2%

3.4

KSKM 96.5

96.5%

0.8%

0.5%

1.7%

0.2%

0.2%

3.45
Fraction Size

0-15 mm Standard Size for all Grades

Small Fractions

0-1 mm, 1-3 mm, 3-5 mm, 1-5 mm, #200 mesh

Packing

1.35 MT Big Bags

Colour

Yellow to White

Origin

Turkey
Indian Dead Burnt Magnesite
| | | | | | | | |
| --- | --- | --- | --- | --- | --- | --- | --- |
| Grades | MgO(Min) % | CaO(Max) % | Al2O3(Max) % | Fe2O3(Max) % | SiO2(Max) % | LOI(Max) % | Bulk Density |
| I | 90.00 | 1.50 | 0.50 | 1.00 | 6.50 | 0.50 | 3.4 |
| II | 89.00 | 1.50 | 0.50 | 1.00 | 7.50 | 0.50 | 3.4 |
| III | 88.00 | 1.50 | 0.50 | 1.00 | 8.50 | 0.50 | 3.4 |
| IV | 87.00 | 1.50 | 0.50 | 1.00 | 9.50 | 0.50 | 3.3 |
| V | 86.00 | 1.75 | 0.75 | 1.50 | 11.00 | 0.50 | 3.25 |
Coarse Sizes

0-15 mm, #44 mesh, #100 mesh, #200 mesh, #325 mesh

Packing

25 or 50 kg HDPE or Paper Bags & Big Bags

Colour

Yellow to White

Origin

India
Trade Information
Yes

Contact us for information regarding our sample policy
Africa, Middle East, Western Europe, Eastern Europe, South America, North America, Central America, Australia, Asia

All India
Contact Us
1st Floor, NM Arcade, Opp. ARRS Multiplex, Meyyanur Road,, Salem, Tamil Nadu, 636009, India
Phone :+918045475424